HELP MENU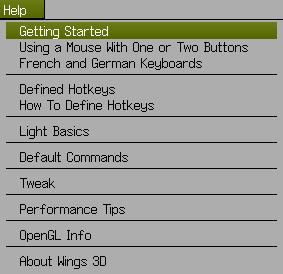 The Help Menu contains some general information on selected topics. They are pretty self explanatory, and new users would be advised to read through the brief notes – it won't take very long.
Each selection brings up a display window containing the help subject text.
The help text windows can be 'rolled up' by LMB in the header bar, and closed by LMB on the 'X' tab.
Help | Getting Started
The Basics on program navigation.
Help | Using a Mouse With One or Two Buttons
Explains how to tell Wings 3D what type of mouse you are using.
Help | French and German Keyboards
Explains how keyboard mapping differ for French and German keyboards.
Help | Defined Hotkeys
Lists the default, built-in Hotkeys with associated Commands.
Help | How To Define Hotkeys
Explains how to assign and delete hot keys in Wings 3D. See also Hotkey Assignments.
Help | Light Basics
Tells you how to create, manipulate, and use lights in Wings 3D.
Help | Default Commands
Tells you how to turn on Default Commands, and how to use them.
Help | Tweak
Brief overview of Tweak, what it is, how to use it, and the use of Tweak Hotkeys.
Help | Performance Tips
Some worthwhile tips to help get better response from Wings 3D.
Help | OpenGL Info
Tells you some basic information about your graphics card and how it handles some of the OpenGL® properties. Could be useful information to include if you report a bug that deals with how Wings 3D displays things on your system.
Help | About Wings 3D
Displays the Wings 3D logo and the revision number for this installation of Wings 3D.